About Us
You're Fired, est. 1998
We are a Paint Your Own Pottery Studio located in Uptown Oxford, OH near the campus of beautiful Miami University. Our unique studio offers the perfect place for people of all ages to come together and create!
Our incredibly friendly staff will make you feel at home and help you with your project step by step. It will be easy to see how much we love our job and our community!
We are a great place for birthdays, bridal parties, baby showers, sorority/fraternity events, girl and boy scouts, staff parties, and so much more!
You're Fired! is the perfect place to make memories with your friends and family!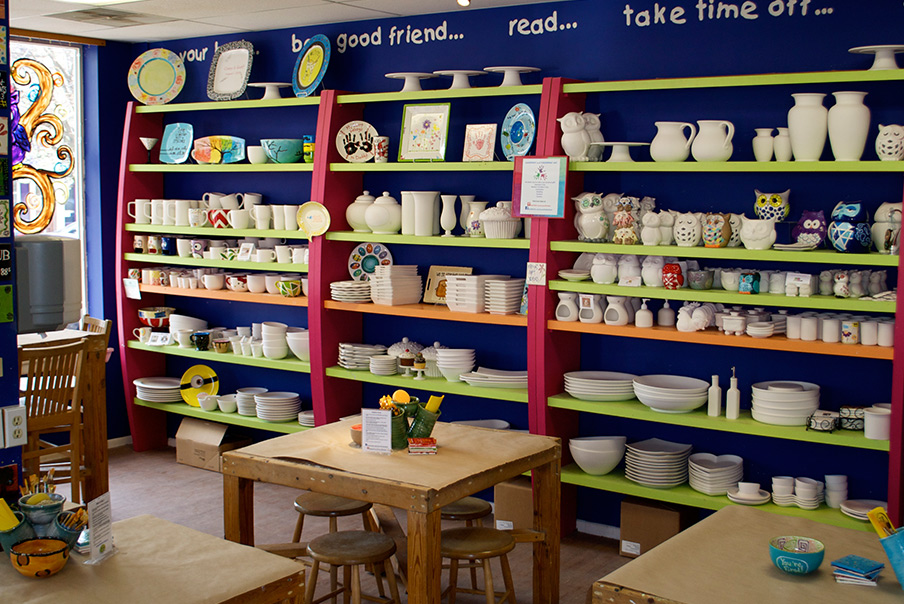 Meet Lisa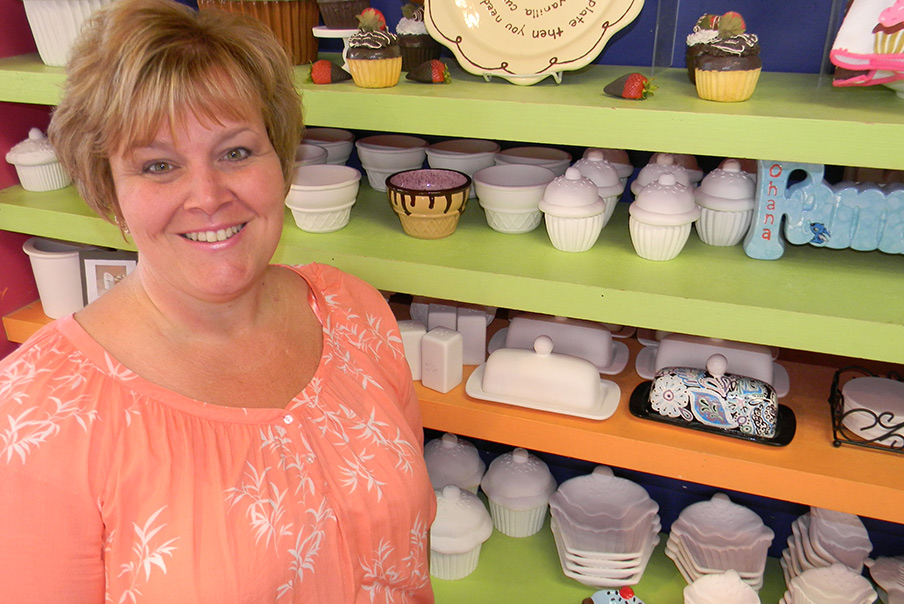 Owner & Operator of You're Fired!
Favorite Color: Coffee-n-Cream (but she loves all the clever paint names!)
Favorite Technique: Using Pinterest for inspiration!
Personal Motto: "When people ask why I'm so creative, I tell them it's because I ate paste as a child."
About Lisa: I attended Berea College in Kentucky where I met my husband, Brent, of 25 years. Brent can be found at the studio repairing and loading kilns, or teaching at Miami University. We have three almost-grown kids who make us very proud! I had the privilege of being a customer, an employee, and now owner of You're Fired! and it's an amazing place to work! I love to create, interact with people, and see people really enjoy themselves in my studio! If you stop by, be sure to say hello!
Our Employees
Brenna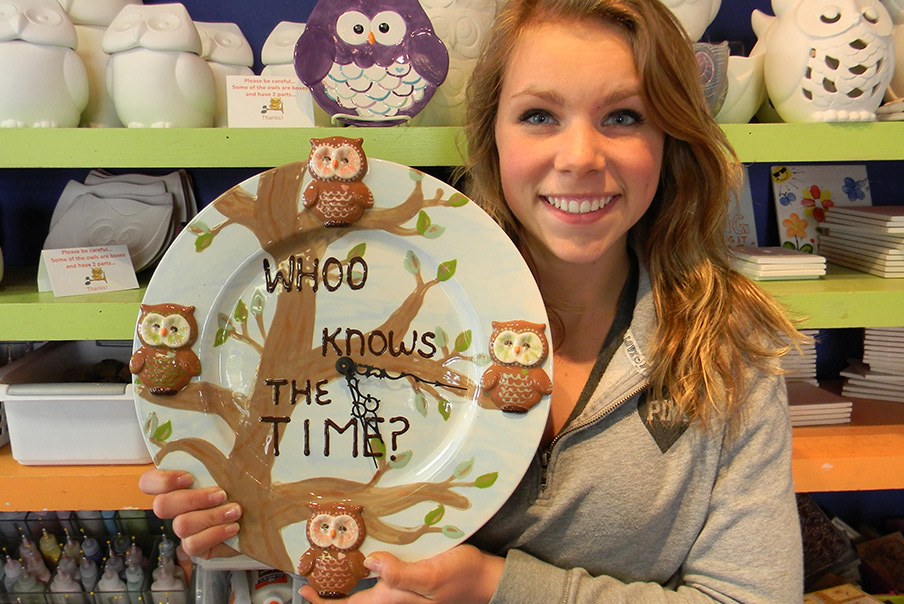 Favorite Color:
Tahiti Teal
Favorite Technique:
Using fabric for design inspiration
About Brenna:
Brenna enjoys  singing in her high school choir. She does most of the personalization & lettering on pottery in the shop! She also paints most of the birthday plates for our customers.  She wants everyone to know that her name is Brenna, and NOT BreAnna!
Brittany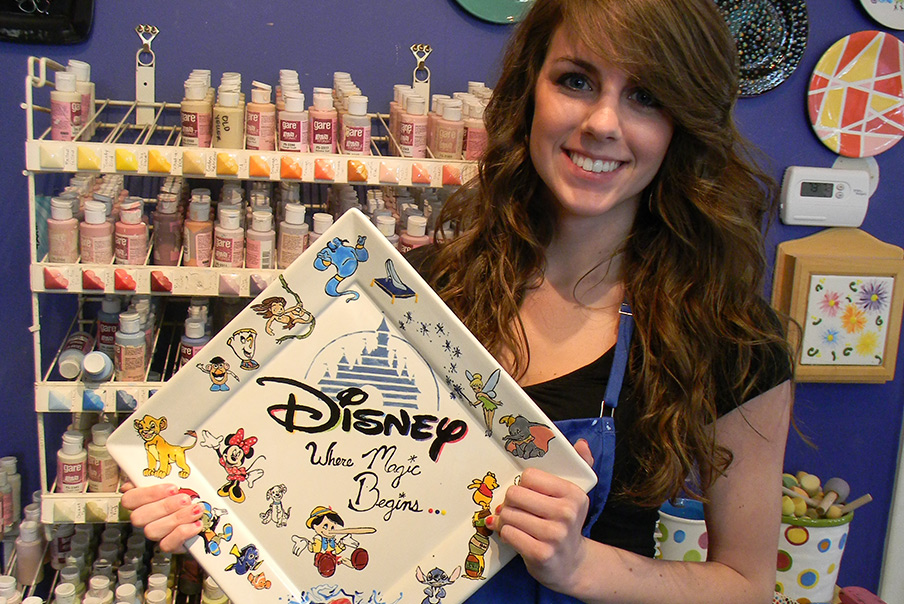 Favorite Color:
What a Yolk
Favorite Item to Paint:
Vases
About Brittany:
Brittany is a Miami Student and LOVES peanut butter and Chick Fila Sauce! Sometimes she like to be a nerd and geocache!
Emily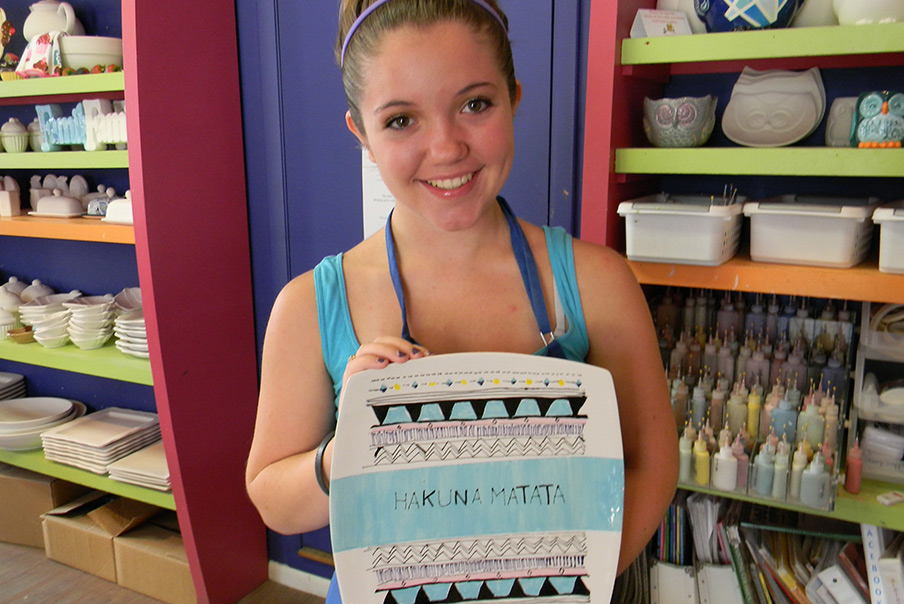 Favorite Color:
Tahiti Teal
Favorite Item to Paint:
Plates
About Emily:
Emily is related to Johnny Cash and Justin Bieber told her that he loved her!
Melinda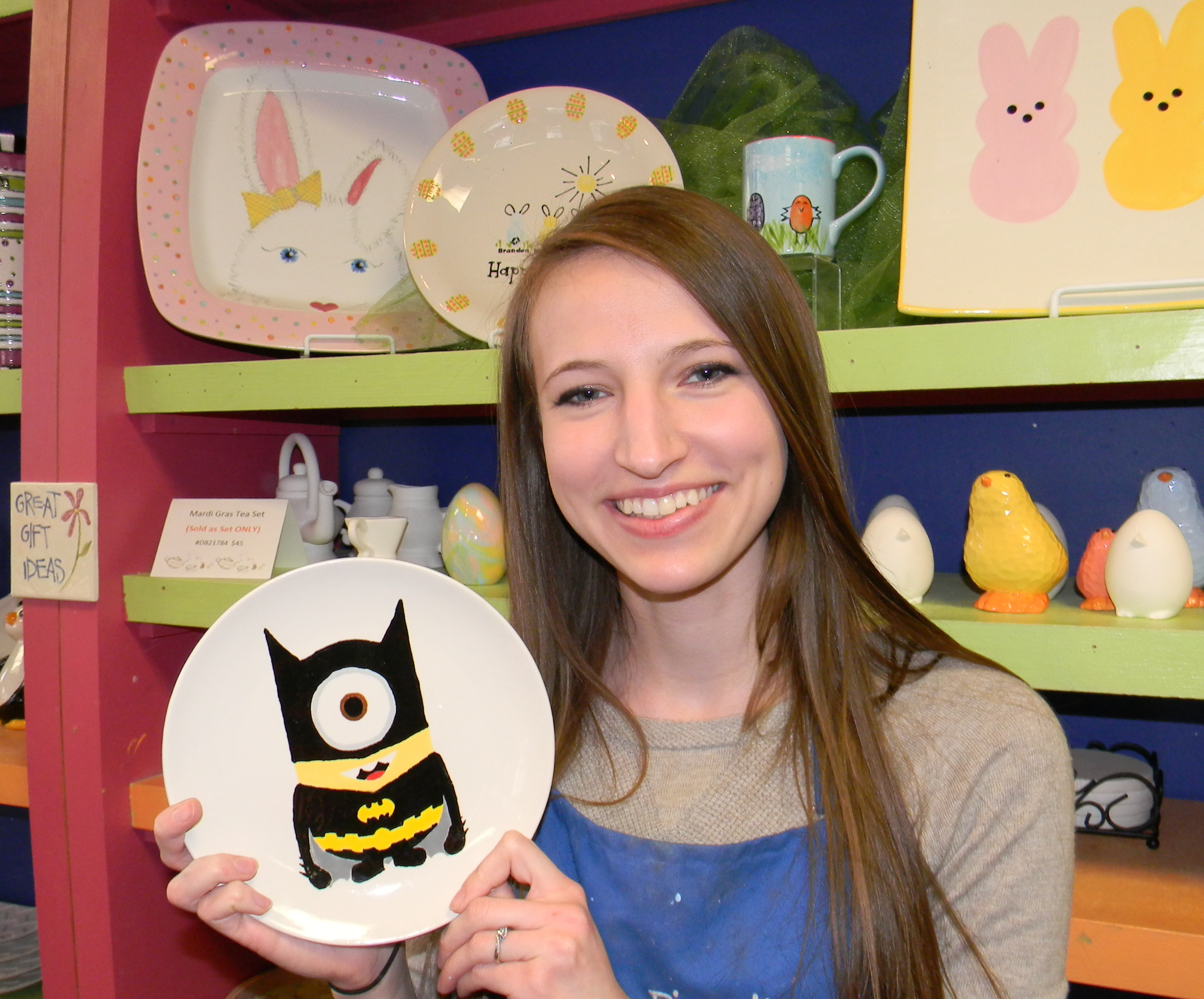 Favorite Color:
Jumpin Juniper
Favorite item to paint:
Anything with nature or animals!
About Melinda:
She is from Washington State and loves/misses her beautiful mountains.  She loves going to concerts of her favorite bands…including Mutemath and Bombay Bicycle Club!
Brianna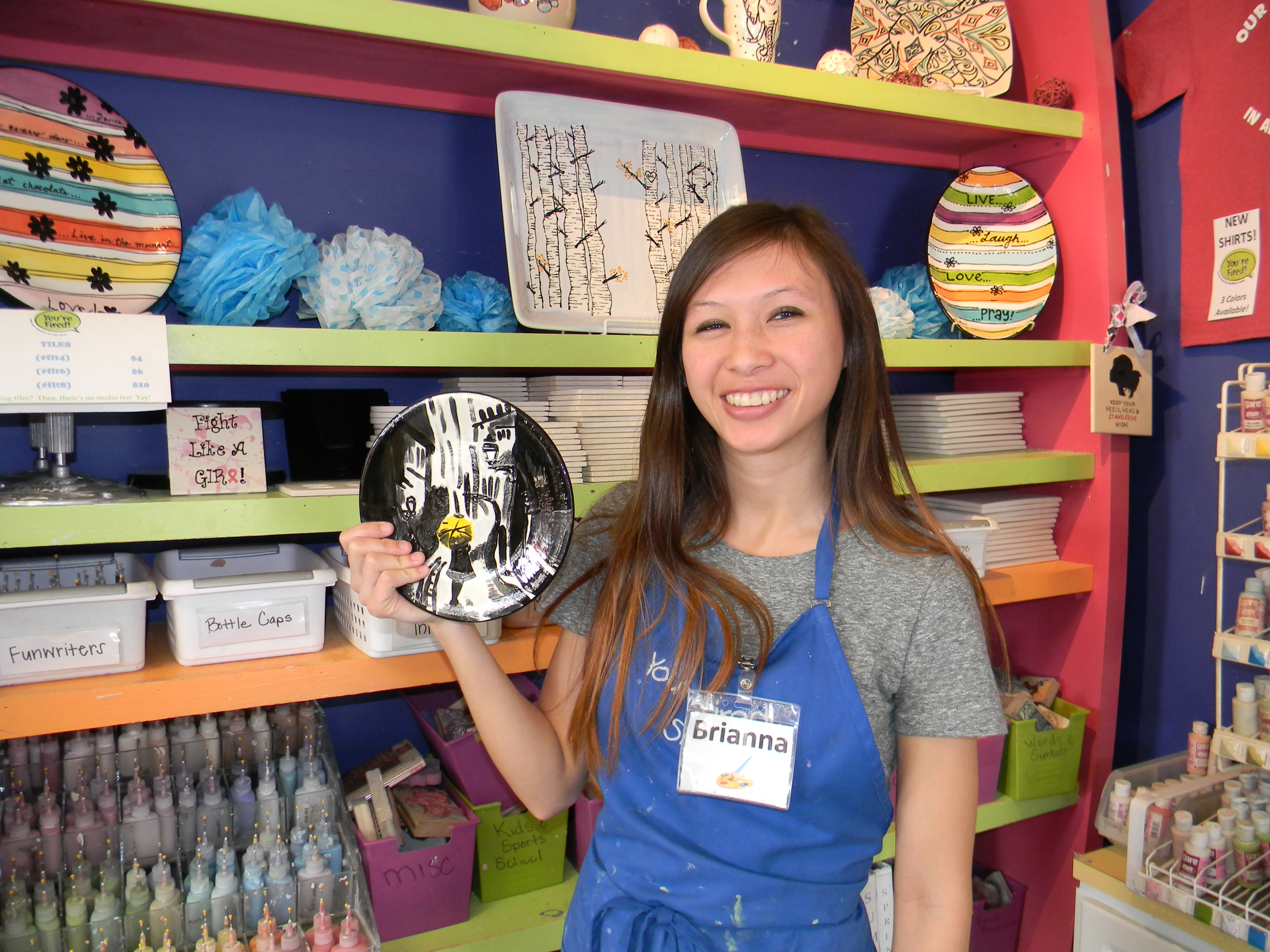 Favorite Color:
Pool Party
Favorite Item to Paint:
Loves to paint flowers on pieces.
About Brianna:
Brianna is a Miami University student and already owns her own photography business.
Miranda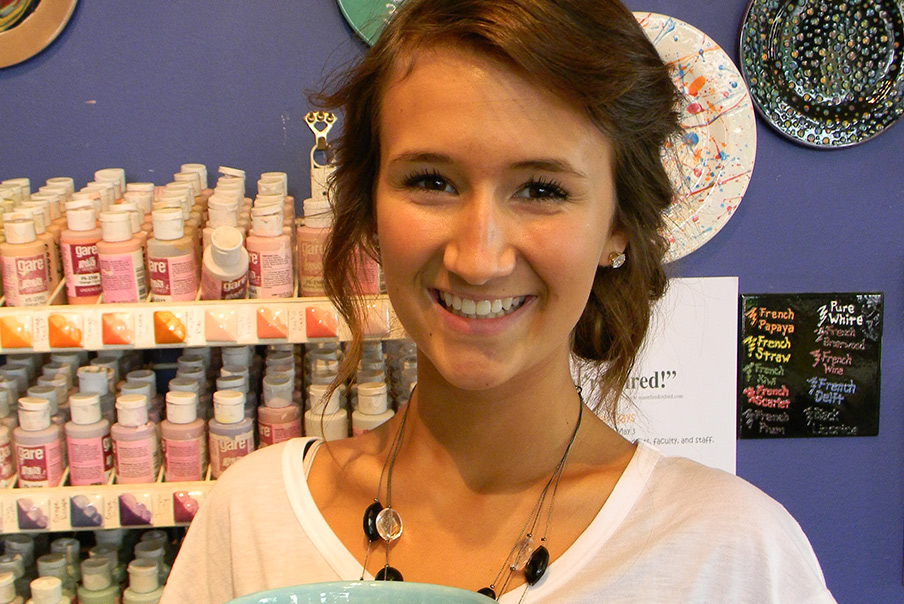 Favorite Color:
Pool Party
Favorite Item to Paint:
Disney Princesses
About Miranda:
Miranda is AMAZING at intricate nail art. Also, she loves mermaids.  Miranda painted the "Frozen" platters that so many customers like to stop by and admire.
Allyson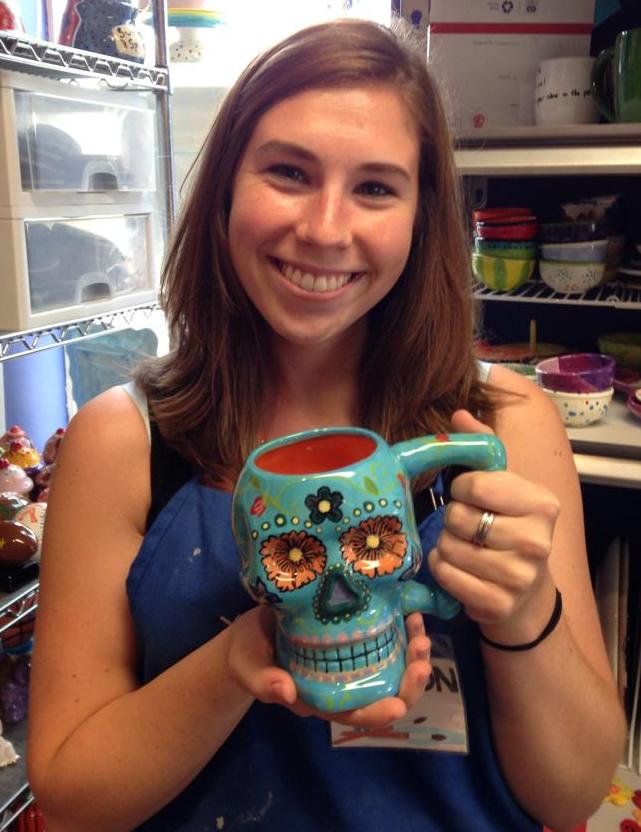 Favorite Colors:
Orange Peel
Favorite Item to Paint:
Mugs!
About Allyson:
She is a Miami University student studying Italian Studies and International Student Development.  She loves to travel, go outdoor adventuring, and is also a Miami RA.
Personal Motto: Pura Vida!

Tracey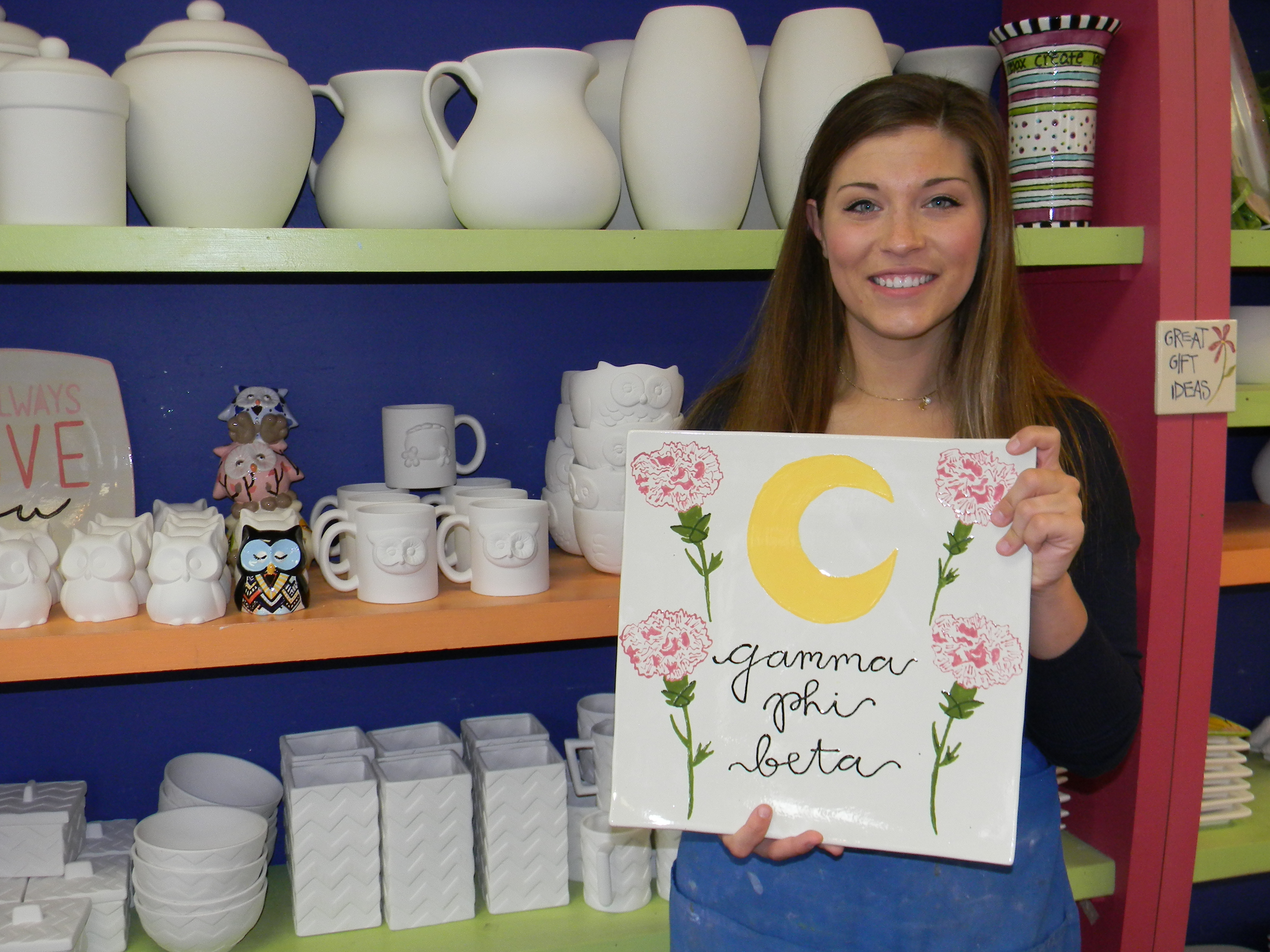 Favorite Color:
Orange Crush
Favorite Item to Paint:
Ring Holders
About Tracey:
Tracey is in Gamma Phi Beta. She enjoys laying poolside with a good book, and her favorite ice cream flavor is raspberry chocolate chip!
Bella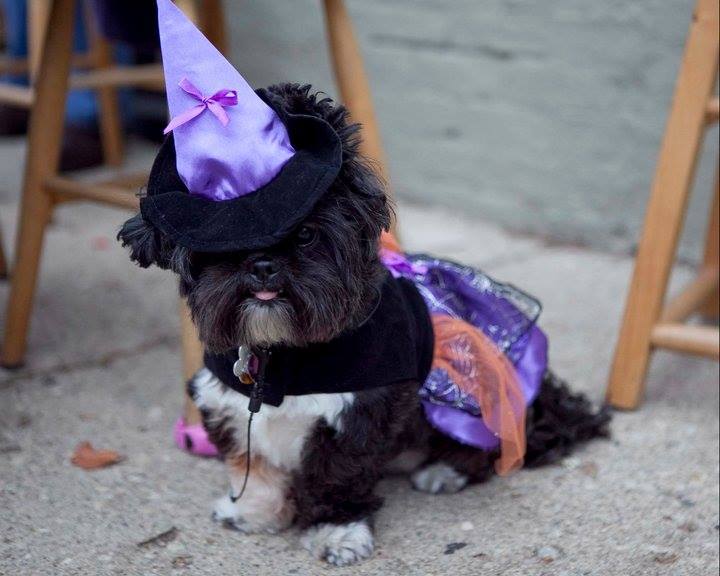 Favorite Colors:
Buck Naked
Favorite Thing to Do:
Greet people at the door!
About Bella:
Bella is the family dog that LOVES to hang out in the studio!  She loves bows in her hair and lots of attention from  customers!